The weekend of the 23rd of May seen the SXS Racing British Championship arrive at Ivanhoe Aston, a hilltop near Luton. A new venue to SXS bringing all the challenges that a new venue brings: parking, layout and a scratch build track to name but a few.
The track team were on site from Wednesday morning and after a few minor problems of their own the build started on schedule. Initially getting the layout right was a real challenge with safety distances to consider as well as track length and lap time. Multiple changes were made to try and get the best from the land, with the lap planned and ready for marking in good time. Marking the route was a real test as there were very few natural features to help direct traffic so a record number of posts and arrows were used to ensure no disasters on race day. The clearing of the woods to allow buggies to pass was a bold call, which consumed a whole day but defiantly added some character to a fast flowing lap.  Marking finished, it was all about flags and banners to add a splash of colour to the venue, some of which would be victims of misjudged cornering from a few eager drivers. Layout and marking complete it was time to welcome the drivers and start the hectic 48hrs that is race weekend.
With a solid 38 entries it seemed the kids Easter holidays had robbed us of a few drivers but a strong field nonetheless. The draw was done on Saturday evening and most seemed to take an early night in preparation for what turned out to be a tough day for all involved.
Race 1 Expert
The expert class really is a tough one to call with potential winners in every machine. The draw was kind to the Fletcher boys seeing them first and second off the line. Paul Rowlands was not so lucky in the draw and a charge from the back seemed a dead cert as he started last.
The early stages were a mixed bag with some glimpses of real pace then slower laps to cancel them out from most of the drivers. Tom Fletcher seemed to be the one pushing early and his brother seemed set on chasing him lap after lap.  Jamie Thwaites had a solid first lap then disaster struck in the form of a damaged ball joint forcing a DNF on a circuit that seemed to really suit his driving style. Richard Avis also seen luck fail him as multiple stops due to machine issues seen him out of contention for the win, but the racer in him seen him continue nonetheless knowing that any points are better than none, even at this early stage in the year.


As the clock ticked through the 45min mark the turbo machines were starting to make the presence felt at the front of the pack. Jason Rowlands, Paul Severn, Paul Rowlands and Josh Barrett were all making their way up the standings and the second hour looked to be a shootout with lap times through the field being split by the smallest margins.  A small mistake cost Lewis Fletcher dearly when he tipped his machine on a very tricky corner; this resulted in an end to his day and released the wolves on his brother at the front. Mark McCann/Jayne Ind used consistency to stay in the top four for most of the race as Mark's silk glove racing style clocked solid but sensible lap times although there would be a tense ending for buggy 64.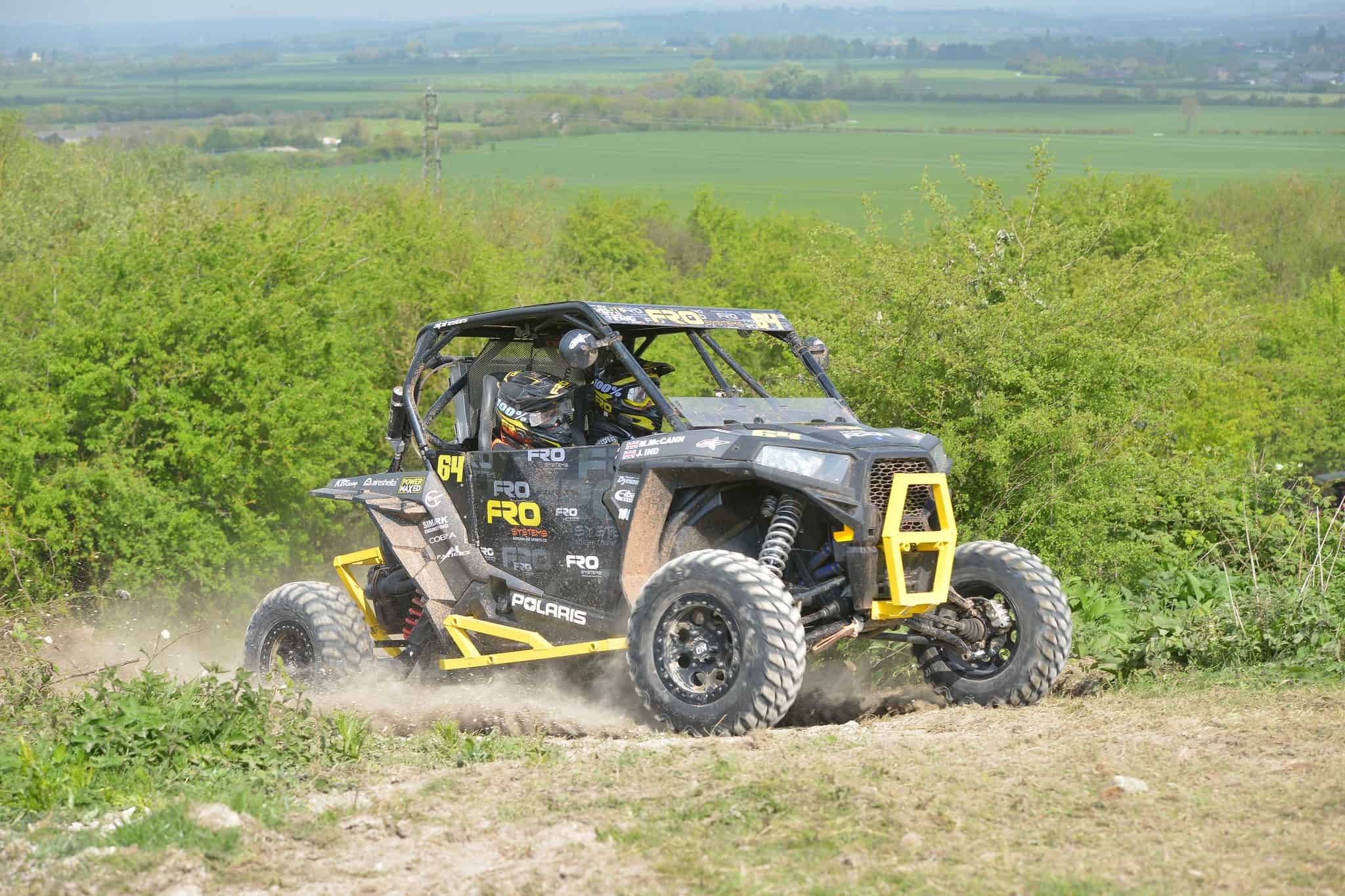 Tom Fletcher nailed a well timed pit stop and seemed to gain momentum as the race went on, setting the fastest lap of the race not long after. A truly fantastic drive from Tom as he grabbed top spot on the podium, awarding a haul of points for him and his team. Paul Severn continued up through the field and broke in to the top three in the latter stages of the race, a solid performance as he adjusts to his new machine grabbing second overall and first in class. Mark McCann and Jayne Ind in buggy 64 had a nervous ending to a great day as a suspected driveshaft saw their pace drop in the late laps but lady luck helped them to remain third overall and second in class.  Jason Rowlands looked like a potential race winner but punctures seen him tumble out of the top three.  Fourth place would have to do this time. Shaun and Erin Jenkinson bagged third in class, with consistency being the key to their performance; a well-deserved podium spot for the father and daughter duo.


Robert Lloyd seems to be getting to grips with his move to a 1000 from his trusty 900 and his confidence in them machine seemed to grow every lap.  By the session end he was all over the back of the more experienced Shaun Jenkinson. Paul Rowlands definitely had the pace but again luck wasn't on his side. His perpetual improvements to his machines mean inevitably some modifications wont have the desired effect, and that summed up his weekend.  Nevertheless, perseverance seen him grab a solid haul of points for third in class. Josh Barrett was a victim of his own ability as he slowly warmed through the field and looked to be set for the win until his belt decided today wasn't the day. Josh will be a real force in these events when his adjustment is complete so watch this space. Claire Avis finished fifth in the thousand class with another steady drive in her inaugural year in the machine.   Much more will be seen from Claire as she gains confidence in letting the machine go.
A good solid clean race with some fantastic individual drives so well done to everyone.
Result Overall
1st – Tom Fletcher
2nd – Paul Severn
3rd –  Mark McCann / Jayne Ind
Race 2 Rookies
This really is the race that nearly wasn't. The early race had flagged up that dust was going to be a concern and that was an understatement. The event team decided to set the cars off in pairs to try and spread the cars out early in the race  in order to keep the dust down. As the cars were released it was clear that the early stages of the race would be a test of skill for the drivers and a test of nerve for the organisers and let me tell you it was a long first hour for everyone involved.
The early pace was difficult to see as many people would set a strong lap and then be held up by traffic, the ones to watch seemed to be Josh Hope, Gary Tarrant and Mick Edwards – father of Bailey, who took to the track in Baileys absence.  Early on Terry Griffiths looked to be going well but disaster in the late laps would eventually see him DNF, a real shame. Josh Hope was the star of the day and proved the thoughts of many in the paddock. After a steady start he slowly climbed the leader board peaking at just the right time. With just minutes to go he took the lead and managed to carry it to the end, a good win for Josh and very well deserved.


Mick Edwards took advantage of Baileys absence taking the drive and surprising many, he was always there in the top four and even when the race got wheel to wheel he held his nerve and finished a solid second. Third place, Gary Tarrant built on his early performances and grabbed a podium after a tough two hours battling against the more experienced drivers.
First in for the open class was Miles Radburn whose interesting pit entry saw him in front of the Clerk with no further action required. It was great to see Miles have a good day after some disappointing results over the last few months. Mark and Carolyn Rushton will be left wondering what if after an early driver change due to challenging conditions. They finished the race only 4mins off the first in class and who knows maybe another win could have been on the cards.
Paul Melia was first home for the Essex lads winning the battle of Essex 'til the next round, although there were some good battles throughout the race from all of them. Andy Dare managed a good finish even after starting several laps down due to a mechanical issue in practice, well done Andy. Jason Bird and Jack Smith were next across the line on the same lap although Jack may regret a battle that seen him on his side losing several minutes off his race time.


Ryan Parry was first home for the 900s in a far better paced event for him as he adjusts and learns race pace. Again one up to him after the fast but unpredictable Jed Wielgold found himself limping across the line to land second in class as the final finisher in class.  James Blakey continued his progress finishing on the same lap as Ryan Parry with a clear gap between them and the next group of finishers. Next of the running finishers was Charlie Welbourne with Speedway guest Jan Graverson battling through the dust to finish third in class handing bragging rights to good friend Mark Rushton. Kerion Weaver was the last of the finishers after some mechanical bad luck.
Results Overall
1st –  Josh Hope (187)
2nd – Mick Edwards (33)
3rd – Gary Tarrant / Nick Webster (68)
Massive well done to all the drivers and event staff who kept things together in some testing conditions. Special thank you to Nigel Wheatley for the venue and Roy Barton for timing.
Updated standings can be seen HERE.
Images courtesy of Steve Buck.
Next stop PAR Raceway, Don't miss that one! What a track 😉