Last weekend saw the launch of the 2019 Short Circuit season as well as round two of the Youth series arrive at Bromyard MX. A narrow challenging track which had held a lot of water after some winter MX meetings. The track team could probably have done with another day to get things just right but we got somewhere close and racing was go.
British Youth Championship Round 2
Qualifying
These sessions get more interesting at every round as we watch the youngsters progress with every lap. Mack Priestwood was fastest out the blocks setting a solid pole lap with his biggest rival Lewis Scotney down in fifth after mechanical problems. Joe Chilvers in only his second outing again showed potential to mix the pack grabbing second spot on the grid for race one. Consistency again seemed Rio Longdon's strongest weapon posting the third fastest time of the session followed in by Fred Tarrant in fourth. Jacob Tomblin and Jude Scotney were split by only tenths in sixth and seventh with the ever improving Ruby Priestwood closing off the pack.
Race 1
Race one was always going to be about the charge through the pack by Lewis Scotney and that's exactly what it was. Coming from fifth to first in a tremendous drive, winning battles with all his biggest rivals along the way. Mack Priestwood held second setting the fast lap of the session along the way. Joe Chilvers dropped one spot to third followed home by Rio Longdon and Fred Tarrant with lap times almost identical. Jude Scotney got the better of good friend Jacob Tomblin for seventh spot in a great little battle that should last all season. The ever-progressing Sophie Bird and Ruby Priestwood closed off the grid whilst both took huge chunks off there lap times every time.
Race 2
This session again saw all the same battles fought through the grid but some with different outcomes. Lewis Scotney bolted at the front and never looked back setting the fastest lap along the way. Mack Priestwood chased hard but couldn't quite get there settling for a solid second place. Joe Chilvers again proved a great addition to the series beating the veteran Rio Longdon to third spot. Jacob got the better Jude this time out for fifth place as the pair continued their own private battle. Sophie Bird progressed up to seventh spot again growing in confidence with every lap followed in by Ruby Priestwood in eighth spot. Fred Tarrant had mechanical issues which dropped him to the back something he would have to work hard to correct in race three.
Race 3
Race three was more of the same at the front with Lewis Scotney first home against second spot Mac Priestwood. Joe Chilvers again took third spot with Fred Tarrant charging through from dead last to secure fourth. Jacob Tomblin again won the battle with Jude Scotney for fifth and sixth, a good result for Jacob. Sophie Bird grew stronger again in seventh place followed home by Ruby Priestwood in eighth. Rio Longdon suffered a mechanical failure which would prove costly for the overall. Another great race from a class that seems to get more competitive with every lap, so well done the youngsters.
Overall
1st – Lewis Scotney #11
2nd – Mack Priestwood #73
3rd – Joe Chilvers #74
4th – Jacob Tomblin #10
5th – Jude Scotney #12
Fastest Lap Bonus Point – Lewis Scotney #11
Clerks Driver Of The Day – Sophie Bird #99
British Short Circuit Championship Round 1
Open Class
Qualifying
This session has always been extremely competitive and today was no different, Paul Severn seemed at last to have his machine doing what he wanted. Making gaps in the pack to drive hard into proved key as he pipped Mark McCann to pole position for race one. Dave Riley pushed hard showing good form to take third spot ahead of the more experienced Paul Rowlands in fourth. Andrew Postlethwaite was first home for the rookies but had a challenging day ahead of him running in two-wheel drive. Adrian/Callum Loveridge continued their progression in their new class taking sixth spot ahead of Andy Bennet in seventh. Mark McPhee in the supercharged YXZ was close behind in eighth chased in by the Mark/Lewis Scotney. Miles Radburn seemed to regret his tyre choice down in tenth with Neil Davey/Tony Barley and Joe Robinson closing off the grid.
Race 1
It really was all change at the front in race one. Mark McCann too advantage of good traction off the line and blitzed into the lead. The race was won from the front with a clever drive from McCann chased in by Paul Rowlands in second spot. Andy Bennett grabbed third, with Dave Riley home in fourth. Paul Severn bagged fifth spot with Miles Radburn makes a huge leap up to sixth. Mark/Lewis Scotney were next home against the new comers Neil Davie and Tony Barley in eighth. Andrew Postlethwaite struggled on in two-wheel drive after a few excursions off track to cross the line in ninth followed home by James Bushell. Joe Robinson marked the end of the finishers in what was a great race to start the day.
Race 2
Race two was more of the same at the front, the flying McCann setting the fastest lap of the session on his way to victory, chased hard by Paul Rowlands in second spot. Dave Riley was up to third in a solid drive with Adrian/Callum Loveridge pushing hard through the group to fourth. Miles Radburn again finished at the business end of the field in fifth spot with Joe Robinson up to a more respectable sixth. Neil Davey/Tony Barley pipped Andrew Postlethwaite to seventh place after some well timed and not so well times Joker laps. The story of the race was Paul Severn, after some horrendous bad luck he showed the spirit of a racer by reversing over two thirds of the final lap to achieved a finish and some valuable points.  Well done Paul.
Race 3
Race three saw a depleted field but some battle none the less.  Mark McCann again broke clear at the front and lead the whole race, a solid day from the FRO System driver. Adrian/Callum Loveridge progressed through to second after Paul Rowlands had some issues with his steering pushing him down to third. Dave Riley came home in fourth spot with Joe Robinson fifth building on the previous race result. Neil Davey/Tony Barley were the last of the finishers after a great days racing for the Open Class. Well Done everyone.
Overall 
Open Experts
1st – Mark McCann #64
2nd – Paul Rowlands #60
3rd – Dave Riley 607
Fastest Lap Bonus Point – Mark McCann #64
Clerks Driver
of The Day – Mark McCann #64
Open Rookies
1st – Neil Davey/Tony Barley #6
2nd – Joe Robinson #710
3rd – Andrew Postlethwaite #1
Fastest Lap Bonus Point – Joe Robinson #710
Clerks Driver Of The Day – Neil Davey/Tony Barley #6
1000 Rookie Class
Qualifying
This class was always set to be interesting with some new faces setting some quick times in earlier events. Chris Place was the new name in this session taking a surprising pole against some far more experienced SXS Racers. Jed Wiegold the favourite for the front took second spot beating Gary Tarrant by just s few tenths as they both battled for the front row. Keiron Weaver adjusting to his new machine took fourth, with Mark/Lewis Scotney showing some real improvement to jump to fifth. Paul Monteith another new name struggled slightly with set up but manged a solid sixth spot ahead of Darren/Rio Longdon and the young Scot, Cameron MacDonald. Tim Prior was solid in ninth and a good performance for the relative new comer beating Jason/Simon Medleycott and Carl Day in tenth and eleventh spot. Joe Robinson had his first run out in this class and his first competitive run in his new RS1 and with some adjustments there is definitely improvement to be had. Mick Edwards was back in thirteenth spot with Alan/Joe Curnick and Jack Barley/Lewis Bolt closing off the grid. The first race was racked to be a good one.
Race 1
Race one saw a fantastic battle at the front and a shuffle in the pack from top to bottom. Jed Wiegold drove a strong and aggressive early phase to take the race win from an improved Mark/Lewis Scotney in second spot, Chris Place dropped to third still a solid result followed in by Darren/Rio Longdon. Charlie Welbourn hung up his marshal flags to have a run out in this session taking fifth place ahead of Cameron MacDonald. Wayne Harris gave Charlie Welbourn's other machine a run out and moved from the back through to seventh spot with the Herbie car of Carl Day hot on his heels in eighth. Micks Edwards made good progress through to ninth from an uncharacteristic thirteenth in the first session. Alan/Joe Curnick followed home by Jack Barley/Lewis Bolt marked the last of the finishers.
Race 2
This race was more of the same at the front with the front three tussling but finishing unchanged. The men on the move were Carl Day up to fourth and Mick Edward's through to fifth. Cameron MacDonald remained consistent with a sixth spot finish followed home by Wayne Harris in a solid seventh spot. Paul Monteith again looked to be getting to grips with things with a decent eighth, beating the more experienced Charlie Welbourn home. Alan Curnick marked the last of the finishers in what was a race of many casualties as mechanic issue plagued the rest.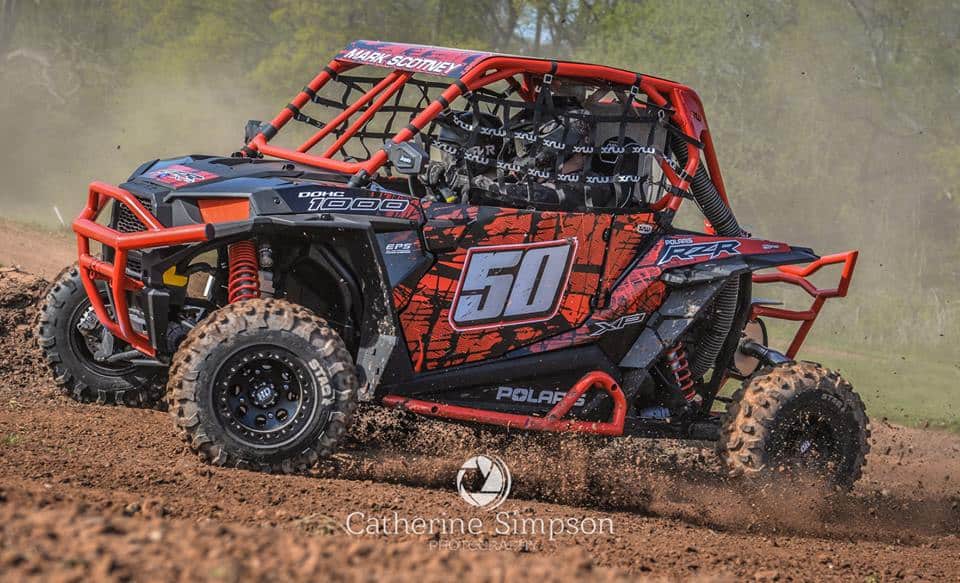 Race 3
Again, the front three steered well clear of drama battling early then seeming to settle for a strong haul of points. A wise move for their championship standings. Mick Edwards was up to fourth a position far more appropriate for his ability after some earlier challenges in the day. Gary Tarrant from a DNF in the previous race moved through to fifth with Keiron Weaver himself having a difficult day hot on his hells in sixth. Carl Day was next home after a solid day with only some minor damage unlike earlier rounds, more of the same please Carl. Cameron MacDonald bagged eighth spot with Paul Monteith and Wayne Harris ninth and tenth. The tussle for the lower placings saw Jack Barley/Lewis Bolt take eleventh, with the remaining finishers a lap down after a challenging session.
Well done to all the rookies for a really good days racing.  Some new names and some old names battling for wins which is always great to see.
Overall
1st – Jed Wiegold #69
2nd – Mark/Lewis Scotney #50
3rd – Chris Place #72
Fastest Lap Bonus Point – Keiron Weaver #94
Clerks Driver of The Day – Mark/Lewis Scotney #50
1000 Expert Class
Qualifying
This session is often the one to watch as many of the sports big names go to war. Tom Fletcher pinned his flag early, setting the fastest lap of the session on only lap two.  Mark McCann his biggest rival wasn't able to match the pole sitter and settled for second spot. Paul Rowlands grabbed third ahead of Joe Bennett in fourth. The mid pack tussle was a great one as third place and seventh place were separated by only tenths, proving how competitive this class really is. Robert Llyod fifth, Chris McPhee sixth and Jason Rowlands in seventh spot. Bailey Edwards and Shaun Jenkinson again on the same second bagged eighth and ninth with Lewis Fletcher after some mechanical issues closing off the grid for race 1. This was going to get interesting.
Race 1
Tom Fletcher was off and not even a smart Joker lane from McCann could deny him the win as they battled for the top spot.  Robert Lloyd made steady progress up to a well deserved third with the man on the move being Lewis Fletcher progressing from the back through to fourth spot. Paul Rowlands had to settle for fifth after a challenging session saw him drop places. Bailey Edwards was up to a respectable sixth with Shaun Jenkinson and Jason Rowlands marking the last of the finishers. A solid race from this the premier class with some great driving throughout.
Race 2
Race two saw more of the same from the flying Fletcher but this time he was joined by his wingman Lewis in second spot. Mark McCann dropped to third after some great racing from the front three and some veteran use of the Joker lane. Robert Lloyd hung on take fourth spot ahead of the improved Shaun Jenkinson in fifth. Jason Rowlands marked the last of the finishers as mechanical problems claimed Bailey Edwards and Paul Rowlands.
Race 3
Race three saw the Fletcher brothers racked up on the front row together, Tom Broke clean with Lewis hot on his heels as everyone prayed for no contact between the battling brothers. Mark McCann again had to settle for third, but certainly not through lack of trying for the FRO Systems driver. Jason Rowlands jumped to a more familiar fourth spot at the cost of Robert Lloyd down to fifth. Shaun Jenkinson pushed on but was unable to improve on sixth spot after a challenging day in a fierce group. Again, Bailey Edwards and Paul Rowlands fell foul to mechanical issues.
Another fierce days racing from the 1000 experts which as always thrilled the staff and spectators. Well done to all the drivers involved in what was a great days racing.
Overall
1st – Tom Fletcher #59
2nd – Lewis Fletcher #159
3rd – Mark McCann #64
Fastest Lap Bonus Point – Tom Fletcher #59
Clerks Driver Of The Day – Lewis Fletcher #159
For full Standings see our results page HERE.
As always a massive thank you to all the people who made the event possible. Paul Rowlands and Onzlow from PAR Homes for the machine and track prep. All the marshals and track staff, and Tracy Martin for stepping up to time the event.
Also the team from Bromyard MX, Thanks for everything 😊
See you all at PAR !